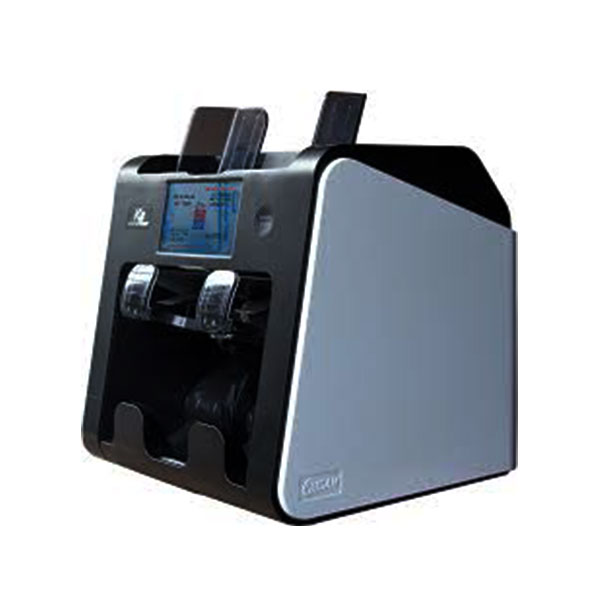 General machine features
After and help in detecting forged papers with high accuracy to multiply the security signs for the number of 10 currencies
-1 Egyptian Pound 2- American Dollar 3 - Euro
4 - Pound sterling 5 - Saudi riyal 6- Russian ruble
7 - United Arab Emirates dirham 8 - Swiss franc
Qatari riyal 10 - Kuwaiti dinar
Advantages
the speed
The machine is characterized by its high speed 1000 - 800 sheets per minute during counting and detection and sorting the violating category without damaging or cramping.
This makes it an efficient machine
Feed: The machine contains a 500-sheet feeder.
Exits: The machine contains an acceptable exit for up to 200 sheets.
It also contains an exit unit for counterfeit currencies and different categories that accommodate 100 sheets, which helps in the continuity of the counting process without stopping
Operating systems
The machine is designed to match bad currencies with a good transmission system and efficient reagents
High as the machine contains a number of operating systems which are as follows
AUTO CURRENCY -1
It is used to count any automatic currency without the need to change the currency from the user
It is used to count and detect forgery for different categories of the same work together and reject the counterfeit and other reasons "MIX. 1
In the rejected drawer
"AUTO." 2
It is used in counterfeiting detection for one category on the basis of the first paper that was accepted and counted and rejected any different category and the counterfeit and other reasons in the rejected drawer.
"FREE." 3
It is used to count banknotes only without disclosing or calculating any value.
"FACE." 4
Counter system with fraud detection with face pointing on the face
"Orient". 5
Counting system with fraud detection with the image on the image
"Face & Orient". 6
Counting system with fraud detection with face on the face with the image on the picture
Counterfeiting Detection
The machine is distinguished by its high efficiency in detecting counterfeiting of the currency to be counted through a series of internal reagents which are
-CIS -1 Class Detector
-Infra red -2 ​​infrared detector
-Ultra Violet -3 UV detector
-Fluorescent-4 fluorescent inks detector
-ultra sonic -5 detector
-Multi Channel Magnetics -6 Magnetic ink detector
Small size
The machine is characterized by its small size, which enables the cashier or the user to use it without the need for a specific place for the machine
Machine sizes are 260W x 279H x 265D mm
Technical specifications of the machine
Paper per minute during counting and detection 1000: 800 Speed ​​-1
Capacity
The feeder can hold up to 500 sheets
The paper output capacity is 200 sheets
The rejected output is 100 sheets
Delivery
 USB
 LAN
 USER DISLAY
IN PRINTER
Electrical feeding
هرتز 60 Hz \ 110 to 240 V 50
the weight
 The weight of the machine is 8 kg